.
.
Jaime Santos, born musician from Rio Grande do Sul (gaúcho)
in Porto Alegre on August 28, 1963, son of Adriano Subtil dos Santos and Maria Eloy dos Santos. Elder brother of nine brothers. Born in Navegantes neighborhood in Porto Alegre at the age of five he moved to
.
Canoas, a neighboring city of POA in Rio Grande do Sul, where he lived with his parents until he was fifteen. As a teenager, he studied at the La Salle school in Niterói / Canoas after finishing his first degree (elementary school) he was transferred to Colégio La Salle in the Centro de Canoas where he won a free scholarship where he studied until the second year of accounting. Upon arriving at the school he was faced with a variety of activities that that school offered, coming from a humble family he was faced with the strength of a private and wealthy school in the city. At the same time in the neighborhood of Niterói, where he lived, he fell in love with the music of Ewerton (Passarinho as he was known), a friend who played the guitar next to the club where he met with several friends and was bitten by the sound and "humming" bug of the music. His brother in the meantime bought a Gianinni guitar and that's where it all started. His hand went mad from the repetition of musical notes until the first song came out, it was when he composed his first song, "Vida Severina" Based on the play by João Cabral de Mello Neto to participate in an internal festival at Colégio La Salle de Canoas, and took second place with the song where it quivered like a stick of green quince. As soon as it all started. From that moment on, Jaime Santos saw that it was what he wanted for his life. However, music was not an easy profession and had to survive, with this it worked with several things to be able to maintain itself, and it was taking the music in parallel. Upon reaching the age of majority, he had no doubts, he started to study music, self-taught and with private teachers. At the age of nineteen, he moved to Porto Alegre again, where he lived for ten years. Still in this place, he met fellow composer Sullivan Maridakis, who later came to invite him to be the caretaker of the building where he lived. Jaime then moved to the 17th floor of the Rambla building on Rua Dos Andradas (better known as Rua Da Praia, in the center of Porto Alegre where he composed several songs in honor of his homeland and its beauty. During this period, a lot happened in bars , festivals, projects and made shows of his own creation. Until 1994 in an internship in accounting at Banco do Brasil, his colleague Waldemar Pires invited him to Florianopolis on vacation, he had no doubts if he went to that inspiring and wonderful place the first And at that moment he decided that he would live on music. Since moving to Florianópolis in 1994, where he resided for twelve years, music became a profession, because up until then in Porto Alegre, Jaime took music in parallel with In the time he lived in Florianópolis, he met Itamar Rios, his partner in several songs, and now lives in Londrina for nine years, in the north of Paraná.
Jaime Santos Brazilian musician and composer. He interprets his songs and music by Milton Nascimento, Chico Buarque de Hollanda, Djavan, Caetano Veloso and many others in the style of MPB.
.
.
Seasoning our yearning, Jaime, with Pomegranate, arrives and hits us in the middle, hitting the nail on the head
.
Jaime Santos, his art is the song, one of the gems that
Brazil knew how to develop so well and is so proud of us. The song is the music and it is the words. It is not just music, which in itself is an art of immense value. And it's not just the verses, as we find them delicious in the poets' lyric.
It can even be said that there is a specific musical activity for the song, just as there is also a very particular way of writing its words. However, we do not have a suitable word in our language to designate those who make songs.
.
We say composer, but that term originally refers to those who "compose or write music". In English, a songwriter is called a songwriter, as in French he is said to be a chansonnier, both of which are derived from "song" (ie, song and chanson, respectively). Song Portuguese, as well as Italian canzoniere and Spanish song, refer to a collection of songs (this is how we say, for example, "Dorival Caymmi's songbook"), and not to those who make them. But in Italian and Spanish there is the word cantautore and cantautor, respectively, a term that refers to those who sing their own songs and which, in Portuguese, we do not know.
Parecerá isso uma bagatela. Talvez. Mas não deixa de intrigar-nos não haver denominação conveniente para uma arte de tamanha relevância para a cultura brasileira. E uma arte da mais alta complexidade. Pois, afinal, como se faz uma canção? É preciso encontrar a melodia inédita, revesti-la com a harmonia adequada e insinuante, buscar, além disso, as palavras cuja sonoridade e sentido se ajustem precisamente à melodia. Isso quando não é, antes, a música que vem adequar-se às palavras, pois o compositor pode também trabalhar sobre texto prévio, seu ou alheio.
It is in this sense that Jaime Santos is an artist of the song, a genuine Brazilian "composer". And "cantautor" (let us accept the necessary foreignness) of excellent quality. In Jaime we have the authentic Brazilian popular song. He does not use specific poem forms, such as the sonnet, nor does he work with certain metrics, such as the decyllable verse. Nothing like that. His poetics are entirely free, dictated only by the melody of the music with which he adjusts and harmonizes. And the themes all come from his own daily life. "Jaime Santos", writes correctly * Guinga on the back cover of the CD Pomegranate, "retrata a realidade da sua vida com toda a honestidade, e é isto que um compositor deve fazer".

* Testimony by Guinga (guitarist and composer of Brazilian music, on the back cover of the CD Pomegranate by Jaime Santos.
Mas de onde vem isso? Isto é, como se aprende a fazer canções? Decerto não é na escola. Aliás, Jaime, moleque da periferia, só entrou na escola tardiamente. Ocorreu que uma vizinha de nome Sila um dia lhe apresentou o que, para Jaime, então com nove anos de idade, representou o seu "pulo do gato" (expressão popular e saborosa com que podemos talvez traduzir aquilo que os acadêmicos denominam uma Epiphany).). Com efeito, Sila lhe mostrou vinis da geração imediatamente herdeira da Bossa Nova: Chico Buarque de Holanda e os tropicalistas, entre outros artistas daquela sempre mui prestigiada geração de ouro de nossa MPB. Ora, entende-se que não era fácil para um guri pobre ter acesso a discos de vinil. Foi assim que Jaime se dispôs a trabalhar para o pai de Sila, o que lhe permitia sempre ouvir aqueles preciosos discos.
Alguns anos depois, um de seus irmãos chegou em casa com um violão, um "pau veio", como Jaime gosta de dizer brincando. Com o apoio de seu amigo Everton, o Passarinho, Jaime não apenas compreendeu como se afinava aquele instrumento, como também aprendeu seus dois primeiros acordes. Poucos embora, esses já lhe serviram para compor sua primeira canção, com a qual alcançou o segundo lugar num festival de talentos na escola La Salle, em Canoas.
Na verdade, a música estava em Jaime desde sempre: na voz da mãe negra, que gostava de cantar os sucessos do rádio (teria sido com ela que ele aprendeu a cantar) e no orgulho do pai indígena, que o punha ainda menino sobre a mesa para que cantasse algum samba ou bolero para seus convidados.
No entanto, o talento apenas não valerá grande coisa se com ele não houver também a persistência e a disciplina. De fato, neste Brasil de tão poucas oportunidades, quantos talentos não se quedam a meio caminho, potencialidades que jamais se realizam!
Ocorre que com Jaime a coisa foi diferente. O menino que cresceu ouvindo a mãe cantar, que o pai erguia sobre a mesa para que cantasse aos amigos, o garoto que, tendo apenas aprendido alguns acordes, escreveu sozinho uma canção para representar a turma da escola, classificando-a numa competição artística, o jovem que, algumas roupas na mala e o violão no saco, decidiu corajosamente "pôr o pé na profissão", o homem feito que cruzou o Atlântico, levando a canção brasileira consigo para o mundo, Jaime Santos nunca desistiu. E nunca desistiu porque soube, sempre soube, desde que ouvira aqueles vinis com Sila, a que veio neste mundo.
The CD Pomegranate.your opera prima, é, assim, o resultado de anos de aprendizado. É, pois, o momento definitivo e decisivo quando o aprendiz se revela mestre para quantos tenham ouvidos para ouvir. Dizem que é preciso viajar para contar histórias. Pois Jaime andou pelo Brasil, e em Pomegranate nos apresenta boa parte das sonoridades e temáticas que atravessam o país: do litoral ao interior, da intensão nordestina ao sul urbano, passando pelo sudeste, a transversalidade é sem dúvida a marca destacada desse trabalho. Pomegranate reconhece, inventaria, sublima e apresenta em sons e palavras o Brasil que amamos.
Com harmonias elaboradas e melodias contagiantes, as músicas seguem a trilha da melhor cepa da nossa magnífica MPB, enquanto as letras (do próprio Jaime ou de seus parceiros) nos enlevam e surpreendem a cada momento com a sonoridade e o sentido que as palavras tomam no contexto único da canção.
Muito se pode dizer sobre esse fluir inspirado de palavras sonoras, mas alguns versos representativos nos serão de momento suficientes: "O movimento da rua / Já se faz ver / E o silêncio lá fora quer morrer" (A cor do dia); "Fruta boa e saborosa / Que me olhando quer" (Romã); "Se amar faz parte de mim / O mar é o princípio e o fim" (Cais do porto); "O coração bate, para / Depois escuta conversa de bois / O boi Cala-Boca reclama do patrão / O homem nunca foi mais forte do que o boi (Conversa de bois); "Alinhados nossos faróis / Espero de ti um sinal / Os navios, nossos portos / Já passou o temporal (Faróis); "A gente tece de luz e sombra / Veredas de se perder" (Óleo sobre tela).
Esses versos (e há outros de igual valor), já em si mesmos de grande expressividade artística, ganham um sentido sublime quando cantados – e é justamente esta, já o dissemos, a arte da canção.
Poderíamos seguir falando de Jaime e seu trabalho por horas, mas, como escreveu Caetano Veloso, "a canção tem que acabar". Não podemos, porém, acabá-la sem mencionar um dos trechos poéticos que julgamos de grande destaque no CD Pomegranate:
She waits for me, her unrest
I don't have time
Seasoning the yearning
When I arrive in the middle
(Who are you)
Compreende-se que a espera inquieta, desassossegada por alguém que, por razões não especificadas, não tem hora para voltar, essa espera ansiosa é temperada (entenda-se: é modelada, ajustada ou, se se quiser, "afinada" como se fosse um instrumento) pelo próprio eu-lírico, que, afinal, chega pelo meio, isto é, quando, embora o esperassem, não sabiam que chegava justo naquele momento.
We were waiting for you, Jaime, and very restless. Without the right time to come and having therefore tempered our yearning, you finally arrive with CD Pomegranate Pomegranate and you hit us right in the middle. Right in!
.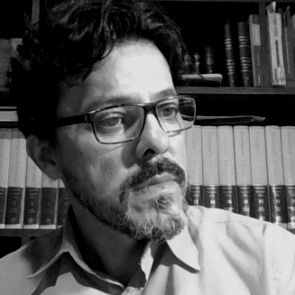 Conrado Abreu Chagas

Literature teacher and musician

Master in Language Studies
.